Totally Addicted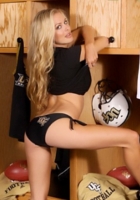 Join Date: Sep 2003
Location: Orlando, FL
Posts: 7,813
vCash: 3860
Vandy Signee Killed in Murder-Suicide
---
Really sad story, sounds like he had a great head on his shoulders.
To view links in this forum your post count must be 10 or greater. Your post count is 0 momentarily.
Quote:
A few weeks ago, the Vanderbilt football program and its fans celebrated the signing of Powder Springs (Ga.) four-star running back Rajaan Bennett. Today, that celebration has turned to mourning after the news of the promising young star's death early Thursday morning. The 18-year old Bennett was a victim of an apparent murder-suicide according to Cobb County authorities.

Rajaan Bennett was just 18 years old.
According to a report in the Atlanta Journal-Constitution, police received a 911 call from the Bennett family home, with someone whispering that they needed help. When police arrived at the Woodcrest Drive address minutes later, they heard several gunshots as they approached the house.

According to the paper, moments later, Bennett's mother, 37-year old Narjaketha Bennett as well as her brother, 32-year old Taiwan Hunter, fled from the house.

According to the report, Hunter had been struck by at least one gunshot. Two juveniles, suspected to be Bennett's younger siblings, also fled the house.

The Cobb County police SWAT team was called to the scene, and when officers entered the home, they found two people who had been shot and killed. One was Rajaan Bennett and the other was 39-year old Clifton O'Neal Steager, a former boyfriend of Narjaketha Bennett.

"The 39-year-old suspect was also found deceased from a self-inflicted gunshot wound to the head," Powder Springs police Lt. Matt Boyd told the AJC.

As a football player, Rajaan Bennett was a senior captain at McEachern High in 2009, rushing for nearly 1,900 yards and scoring 28 touchdowns while leading the Indians to an undefeated regular season and a regional championship. Named the AJC Class 5A Offensive Player of the Year, Bennett was rated by Rivals.com as the nation's 246th overall prospect, making him the first member of the Rivals250 to ever sign with the Vanderbilt football program.

Rivals.com analyst Barry Every had compared Bennett to the likes of NFL running backs Knowshon Moreno and Ricky Williams, and predicted that Bennett would not only be an immediate impact in college but also predicted he would be a leader in the locker room as well.


He committed to Vanderbilt in late January after a near 10-month recruitment that had also included offers from such schools as Tennessee, Kentucky, Minnesota, Louisville, Wisconsin and East Carolina. He made the decision shortly after taking an official visit to the Nashville university where he was hosted by Commodore running back Kennard Reeves and his recruiter, Vanderbilt running backs coach Des Kitchings.

Born in Ft.Lauderdale, Fla., Bennett had already dealt with tragedy himself; his father Charles Bennett had passed away a few years ago, forcing the young Rajaan to help his mother look after his three younger siblings.

"I'm sure you want to talk about Rajaan on the football field, but I promise he's a better person than he is player," McEachern football coach Kyle Hockman said to Vanderbilt officials on National Signing Day. "He has a great head on his shoulders, a guy that has been the man in his household for quite a while, yet still worked to maintain a solid GPA in class and become such a great player. Rajaan is both humble and hard working. He's a guy that is very respected by his teammates and the McEachern community. I think the world of this young man."

Hockman reportedly learned of his player's death at 5 a.m. on Thursday. The Vanderbilt coaching staff learned the news shortly thereafter.

"All of us at Vanderbilt are devastated by news of Rajaan's death. This is just so tragic to everybody that knew and loved Rajaan," Vanderbilt head coach Bobby Johnson said on Thursday. "Initially, our thoughts and prayers are with his mother Narjaketha and family members. I know he meant so much to them. 


"Rajaan was an extraordinary young man and an ideal fit for Vanderbilt University. As we got to know Rajaan, it became very clear to our coaches that he was a better person than he was an athlete. He was a leader, a young man who gained the respect of the entire community at McEachern High School."

Bennett was heavily involved in his school's Fellowship of Christian Athletes program and was to graduate this spring with honors.

VandySports.com would also like to extend condolences to the Bennett family, his McEachern classmates and the Powder Springs community.
__________________
UCF Basketball: 17-9